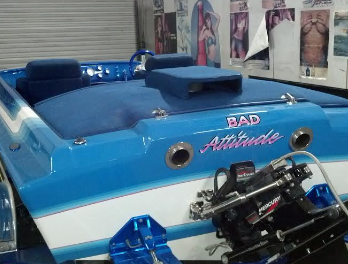 High performance leader in going fast
All motors built with the best of parts. This 632 alum blown injected monster is just one of the set ups we love doing. Pete Fleming spends the time needed on building such monsters to make them last.

At BAD ATTITUDE BOATS , we use state-of-the-art equipment in-house mills, lathes,injector flow machines,heli arc welding. everything we need to make the job perfect.
Offroad racing to sand car playing
Scheduled maintenance programs to sand car tuning on site makes the difference .We have only the most experienced and dedicated mechanics working in our shop. All of our technicians have an extensive background working with off road cars and trucks.

Count on us to get your toy working properly.
stock, mild to wild
Whether your boat needs yearly maintenance, a tune up, outdrive repair to welding skags on, our ASE certified mechanics have the skills to handle all your boating and maintenance needs. Using computer diagnostics, we are able to accurately pinpoint issues and fix them properly.

We can handle any issue your toy needs.